Event
Prisoner Pen Pal Postcard Project Party!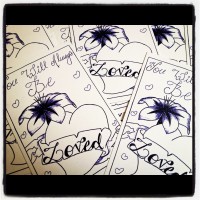 Where:
SRLP 147 W 24th Street, 5th Floor New York, NY 10011
Be sure to mark your calendar for this upcoming (iced) Coffee Talk event!
Coffee Talk is a FREE ongoing discussion series that centers the lives and experiences of low income trans, intersex, gender non conforming people as well as trans, intersex and gender non conforming people of color. Allies welcome!
August 16th 6.30-8.30PM
Prisoner pen pal postcard project with the Gender Identity Project
Co-hosted by SRLP and the Gender Identity Project, please join us to learn about the critical work and organizing happening with trans community members in prison. As a part of SRLP's Pen Pal Postcard Project, we'll also write messages on postcards, designed by PAC member, Giovanni Germanotti to be sent to over 80 trans, intersex, gender non-conforming and allied community members who are locked away in New York state prisons. This will be a perfect opportunity to meet new people and celebrate our art and culture.
Feel free to RSVP here: http://www.facebook.com/#!/events/424128610962690/
147 W 24th Street, 5th Floor
New York, NY
Building has elevator
Trains: C/M/R/N/F/1
This event is FREE.
Light refreshments and Metrocards provided.
To RSVP or get more information, please contact gabriel at
212.337.8550 ext 309 or

gabrielfoster

[at]

srlp [dot] org
Don't forget to check us out on Facebook and Twitter
Facebook.com/SylviaRiveraLawProject
Twitter.com/SRLP