Community Organizing Support
What is Community Organizing Support?
Community Organizing Support means that as a legal organization SRLP believes in building the political voice of our communities. To accomplish this vision, we provide legal services that community members need to survive and participate politically, leadership development and skills-building opportunities, and support to community organizing projects that prioritize and support the leadership of transgender people, gender non-conforming people and people with intersex conditions who are low-income and/or people of color.
We also work in coalition with other community organizations to educate people about their rights to be free from gender identity discrimination, and to raise awareness about the manifestations of this discrimination in schools, jails, jobs, hospitals, and government agencies. We work with clients to connect them with social justice struggles and community organizing opportunities that are relevant to their lives, and help movements that have often overlooked or excluded transgender, intersex, and gender non-conforming people to discover how our struggles are connected.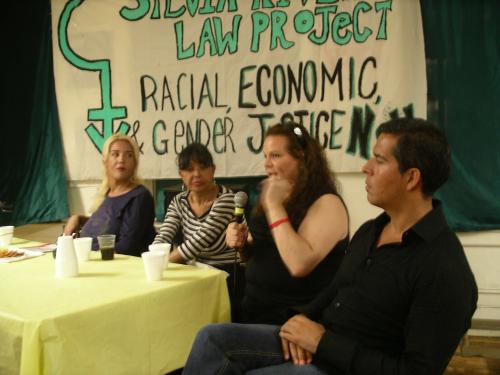 How SRLP Supports Community Organizing Campaigns and Members
Organizing legal observers for direct actions of community organizing projects. Click here for more information about requesting legal observers for actions.
Providing "Know Your Rights" trainings/literature about interacting with the cops before direct action. Click here for more information about requesting trainings from SRLP and here for our brochure about police interactions..
Providing "Know Your Rights" and legal skills building trainings/literature in other areas.
Facilitating accountability sessions and transgender awareness trainings with other legal services organizations that need assistance in understanding the needs of the constituency.
Participating in coalition work on organizing campaigns, where we can often offer helpful legal as well as community-based perspectives.
Writing letters of support to put pressure on targets during a campaign.
Conducting on-site legal clinics at organizations or community spaces to provide one-on-one advice to members.
Making available leadership development opportunities through internships, volunteer positions, the Prisoner Advisory Committee, and collective membership at SRLP.
Building community with incarcerated community members through our pen pal project.